Re-grow your hair from the comfort of your home with the iGrow Laser Hair Rejuvenation System!
Leveraging a patent-pending combination of built-in laser and LED light devices, iGrow revolutionizes hair rejuvenation.
Now you may attain optimal hair health almost effortlessly, right at home!
Studies proved that hair responds best to red light in the 650 – 670 nm wavelength range.
Tests have shown that pulsing light can enhance the effectiveness of Low Level Laser Therapy.
The result from decades of research: iGrow, the world's most advanced hands-free hair rejuvenation system!  Now available at LeBeau Clinic in Pensacola Florida.
About LOW-LEVEL LASER THERAPY (LLLT)
Low-Level Laser Light is one of the most effective therapies to treat hair loss. Currently, over-the-counter laser therapy devices for hair growth are available through convenient hands-free systems, or less convenient hand-held devices. Either product may be used at home, and does not require the supervision of a physician.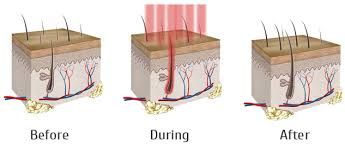 From our research to your home
Today, low-level lasers and improved technology make a portable, affordable and practical solution possible.
Now you can support your hair rejuvenation efforts in the comfort of your home with the iGrow system.
Clinical Results
Hundreds of clinical studies have shown the effectiveness of low level laser therapy (LLLT) on various conditions including hair loss, carpal tunnel syndrome and acne.
With regular use of iGrow, individuals can expect to see a gradual improvement in hair condition within a 12-week period.
Individual results will vary
For best results, the iGrow® should be used 2-3 times per week on non-consecutive days. Consistent use provides optimum results. LLLT has been shown to stop the appearance of hair loss and help rejuvenate hair for anyone with genetic forms of hair loss, such as male/female pattern baldness. Those with significant hair loss due to disease or medical causes will not benefit from LLLT.
iGrow Benefits:
Low-Level Laser Technology Energizes Hair Follicles
Significant Results in 4-6 Months
 Safe and Effective
Clinically-Proven
Zero Side-Effects
Additional Benefits of the iGrow:
-Fully Adjustable
-Lightweight and Comfortable
-No Recurring/Repetitive Costs
-Listen to Music or an Audiobook
-Optimum Laser + LED Light Energy Output
-Scientifically-Proven Wavelength of 655 nanometers
-Consistent Treatment Coverage
-Expanded Treatment Area vs. Laser Combs & Brushes
-Hands-Free with No Manual Movement
-Ultra-Convenient
-Multi-task/No Down Time during Treatments